Welcome to the second half of the year. Can you believe it? Has it flown for you or dragged on? I'm not sure which camp I fit into right now. I think it depends on my mood.
What I
am
sure about is that
has now been running for six months.
Thanks to everyone who has linked up theirs or other bloggers' posts. In six months we've had 119 posts linked - it's been an amazing response.
Background
For anyone who's new to the link-up, here's some background: "Festa" in Italian means a celebration, a party. This link-up is a place where you can place links to your favourite posts in a given month, but here's the difference: they don't have to be posts you've written (although they can be). You can link to any post for the month that, for you, has been a must-read, that you're proud of, or that you think is entertaining.
I do add some of the posts. I love being able to use this space to bookmark my favourite blog posts for the month, but more importantly, I
love
seeing what everyone else likes reading and it makes me smile all dimply-like when other people add their favourites to my festa. So feel free to link up as many of your favourite posts as you like during the course of the month.
(Let me know in the comments if you have trouble with the link and I'll try to fix it at my end. As long as you remember to have ".html" at the end of the URL and the URL is no more than 100 characters, it
should
work.)
Pick of the June bunch (in my humble opinion)
In the past couple of months I've been choosing one post from the previous month's linked posts to showcase here and I'm continuing this month as I think it's a great way of showing off other bloggers in my own litte corner of blogland. It was hard to choose, as all the linked posts were awesome, and you should check them all out
here
.
Francesca's June Festa Favourite is:
Choose Your Own Adventure - Voices of 2013
by Cooker and a Looker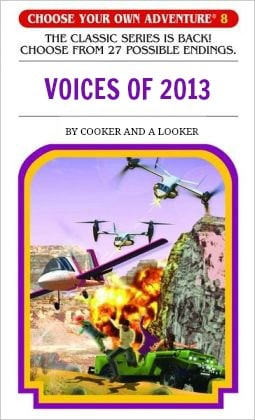 Who didn't love choose your own adventure books as a kid? I used to scour my primary school and town libraries for them and devour them. Then I'd check out all the alternate endings just to see what I'd missed out on. Amanda used this clever method to tell her story about her Kidspot Voices of 2013 weekend.
Now, let's see what delights Francesca's Festa of Favourites can bring us this month. It's linking time ... go!
☺