I came so close to not doing this for this month, but hang that, I'm not closing down a festa!!
So...
...welcome another edition of
Background
For anyone who's new to the link-up, here's some background: "Festa" in Italian means a celebration, a party. This link-up is a place where you can place links to your favourite posts in a given month, but here's the difference: they don't have to be posts you've written (although they can be). You can link to any post for the month that, for you, has been a must-read, that you're proud of, or that you think is entertaining.
I add some of the posts, from blogs I read regularly, so you might see the same bloggers cropping up over the months. I make no apology for that - I love being able to use this space to bookmark my favourite blog posts for the month.
But
,
more importantly, I
love
seeing what everyone else likes reading and it makes me smile till my cheeks hurt when other people add their favourites to this festa. So feel free to link up as many of your favourite posts as you like during the course of the month.
(Let me know in the comments if you have trouble with the link and I'll try to fix it.)
Pick of the October bunch (in my humble opinion)
As usual, I have chosen one post from the previous month's linked posts to showcase here and I'm continuing this month as I think it's a great way of showing off other bloggers in my own little corner of blogland. To check out all the posts linked up in October, click
here
.
This time it was really hard to choose one post to showcase. There weren't all that many posts linked, but they were all so
good
... But without further ado, my
October
Festa
Favourite
is:
My Baby Boy Almost Drowned and It Was All My Fault
by Emily at Have a Laugh on Me.
(Except that it wasn't all her fault by the way - she is being waaaay too hard on herself).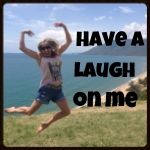 With the warm weather well and truly here in many parts of Australia, I thought it really important to highlight this post as a reminder to us all of how quickly something can go wrong with little ones in the water.
Now, let's see what goodies you bring along to Francesca's Festa of Favourites in November. Happy linking!