Now, first up, I will offer you an apology. Due to being distracted by the many exciting distractions going on in real life at the moment (or, in online speak, "IRL ATM"), I somewhat neglected the best blogging alliteration event of the year:
Francesca's Festa of Favourites for February
. Despite my inattention, some great posts were added to the link-up and I encourage you have a look at them if you're after something new to read.
But first, a short blurb for the newcomers to explain what this linky is all about:
Background

For anyone who's new to the link-up, here's some background: "Festa" in Italian means a celebration, a party. This link-up is a place where you can place links to your favourite posts in a given month, but here's the difference: they don't have to be posts you've written (although they can be). You can link to any post for the month that, for you, has been a must-read, that you're proud of, or that you think is entertaining, written by you or anybody else.

I add some of the posts, from blogs I read regularly, so you might see the same bloggers cropping up over the months. I make no apology for that - I love being able to use this space to bookmark my favourite blog posts for the month.

But, more importantly, I love seeing what everyone else likes reading and it makes me smile til I get dimples when other people add their favourites to this festa. So feel free to link up as many of your favourite posts as you like during the course of the month.

(Let me know in the comments if you have trouble with the link and I'll try to fix it.)

If you've linked a post or had one of your blog posts linked by someone else, why not add the button to your blog and help spread the word :-)

Pick of the February bunch (in my humble opinion)

Each month I like to choose a post from the previous month's linky party to showcase. I think it's a great way of showing off other bloggers in my own little corner of blogland.
The
February
Festa
Favourite
is:
The Dance
by Kate Says Stuff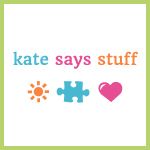 Kate's family dynamic has experienced change in the last few months, with her gorgeous Little Mate starting school. Kate rises to the challenges in her life with courage and kindness. The love she has for her children is apparent in everything she writes and being her Little Mate's advocate is such an integral part of her family life.
Now, better late than never, it's all systems go for Francesca's Festa of Favourites in March 2014. Happy linking!